Valpes (France)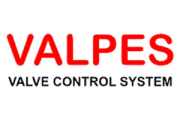 www.valpes.com
Automation of all kind of quarter-turn valves for many different kind of media.
The design and development of VALPES electric actuators is carried out by our own R&D department.
VALPES have all necessary equipment and tools at our disposal for designing and manufacturing reliable high quality products: test laboratory, mechanical workshop equipped with CNC machining and turning centers, machine tools...
VALPES core values:
- Innovative spirit
- Competencies and flexibility
- Full quality insurance
- Reliable deliveries