ШАРОВЫЕ КРАНЫ ДЛЯ ПИВА С БОЛЬШИМ РЕСУРОМ
Ball valves are widely used in any industry. The name "ball valve" comes from the fact that the shut-off element is a ball with the inner hole, through which the medium passes. The hole diameter and the inner diameter of the pipeline are the same. No doubt that the advantages of ball valves are very low hydraulic losses, when the working medium passes through the shut-off tool. Unlike other types of valves, their performance is significantly lower.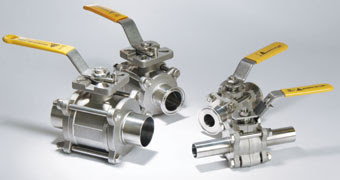 Ball valves Modentic have proved themselves in operation as excellent: they are reliable and resistant with long service life. In addition, the various drives for ball valves control are available: manual, pneumatic or electric.
Such valves can both operate in "open-close" mode, and adjust the product.
Ball valve benefits:
simple design, small dimensions and low weight;
- different ways to connect to the pipeline;
- compared to the valves, which are closed/opened by a few turns of the flywheel, with the ball valve, this
procedure is much faster — it is only necessary to turn the handle to 90;
- high leak-resistance class;
- no dead zones in the flow channel, where the medium can be accumulated;
- standard ball valve is resistant to +180 °С.
Benefits of Моdentic ball valves:
- perfect ball form;
- high quality of body casting;
- electro polished ball surface;
- gaskets;
- no errors in alignment between the ball, the current and the control mechanism.
The company, where equipment is set: Pivkombinat.
Setting point: cooling section.
Controlled medium (product): propylene glycol.
Conditions: temperature -4° С.
Brief review of the specialist:
Specialist of Mechanical Service:
"The valve has a 3-part body for easy maintenance, there is no need to cut the valve from the pipeline, it's enough to take off the core, they work over 1 year, we had no claims to any of them".