Vibration Limit Switches LVL-A7 Ensure Reliable Vibration Level Measurement
Our new LVL-A7 vibration limit switches are designed to the highest requirements of quality and environmental sustainability. The self-monitoring devices enable stable limit level measurement at any time – even in the event of a power failure. Independent of changing media properties, an accurate switch point is provided.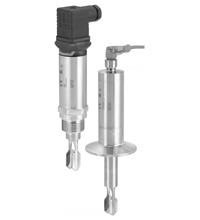 Due to their plug-and-play connectivity, the vibration limit switches are conveniently mounted and installed. There is no need for adjustment or calibration even when changing media properties. Additionally, measurement is unaffected by conductivity, build-up, turbulence, flows, or air bubbles.
With their stainless steel housing (316L), the LVL-A7 vibration limit switches allow reliable operation in very harsh environments or in hygienic applications. The sensor design has no mechanical moving parts that may break down or wear out over time. This provides extra durability, ruggedness, and measurement stability.
Vibration level measurement is a proven method for recording the limit level in liquids and bulk goods. It ensures that monitored media neither exceeds nor falls below a specified level. The vibration limit switches can be installed in any position in a vessel, pipe, or tank. In the application shown to the right, the Vibracon level sensors master measurement tasks like:
Overfill prevention or upper level detection

Lower-level detection

Dry running protection for pumps
For more detailed information on Pepperl+Fuchs range of products, please contact our product manager Oleksandr Kutsenko:
E-mail: alexander_kutsenko@kck.ua
Phone: +38 (067) 658-07-78