IMKO Micromodultechnik GmbH (Germany)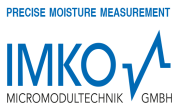 www.imko.de
Humidity measurement technology - developed by experts for experts.
When measuring humidity, each industry and each company faces different challenges. Our experts are focused on the industry. They know the specific requirements of different industries for accurate moisture measurement in different applications - for example, in the case of floors, building materials or bulk goods. After all, the choice of the optimal technology for measuring humidity or devices for measuring humidity is crucial for a reliable measurement result.
Humidity-based technology for measuring radar and humidity measuring devices of the latest generation
Our humidity meters work with radar and thus meet the highest technological requirements for modern humidity measurement technologies. Advantage: the reflectometry technology used in the time domain provides reliable measurements even where capacitive technologies and microwave technologies would have already reached the limits. This means that IMKO's humidity meters are the highest humidity measurement technology.